Groveton VA's Premier Heating Repair Service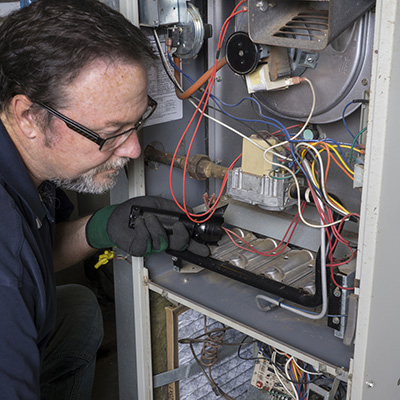 For Groveton VA's best 24/7 emergency repairs, comprehensive maintenance and new installations for your furnace, boiler or heating system, call the experts at Comfortable Air Services. We're a local, fully licensed and insured heating contractor committed to providing honest, ethical and reliable service to Northern Virginia. We know that by providing the highest quality customer service and workmanship imaginable, we'll earn your business for life, which is why we add a personal touch and go the extra mile when needed.
Our team has a reputation for hard work, reliable response times, and quality workmanship. We have a flat-rate policy that ensures you receive an up-front, total price for repairs. Our technician will come to your home for a fee of $65.00 and he or she will thoroughly evaluate your system. You will then be provided a written proposal for the repairs, which includes the cost to fix your system problems, as well as a detailed report of what work will be completed. The technician will then allow you to accept or decline the recommendations before starting work.
Northern Virginia's Trusted Heating Service Contractor
Highly Rated
24/7/365 Emergency Service
Better Warranties
Highly Trained and Professional Technicians
Quality Products
Fully Licensed and Insured
24/7 Emergency Furnace & Boiler Repairs in Groveton VA
At Comfortable Air Services, we offer same-day and 24/7 emergency repair services for diagnosing and fixing all makes and models of residential boilers and furnaces. Our licensed and certified technicians are highly experienced, and we strive to always provide fast response times, so you can rest easy knowing your comfort is on the way!
Do you smell a strange odor or have any reason to suspect a gas leak? The experts at Comfortable Air Services are on call 24/7 to provide quick service for dangerous gas leaks. If you notice a gas leak in your home, the first thing you should do is vacate the property, then immediately call us so we can locate the source of your leak and safely provide a reliable repair that will keep you and your family from harm.
Professional Furnace Installation, Boiler Installation and Heating System Replacement
As Trane, Bryant, and Carrier authorized installation and service technicians, we are highly trained and experienced in the installation of the top-of-the-line brand-name furnace, boiler, and heat pump systems. Our installations are only performed by the area's best-licensed technicians, and each system comes with a comprehensive warranty.
Upgrading to a modern, energy efficient heating system will not only improve your home's comfort, but it can also significantly reduce your energy costs. With the potential for an up to 30% reduction in your energy bills, the savings your new heating system provides can easily offset the costs of your system.
Preventative Furnace and Boiler Maintenance Services
At Comfortable Air Services, we offer comprehensive preventative maintenance contracts that will help you save on repairs and reduce your energy costs. Our contracts include seasonal checkups where a licensed technician will provide a thorough inspection, clean your system, and replace your air filters. Our preventative maintenance customers also receive discounts on repairs and priority service year-round.
Hear from satisfied customers in the Groveton VA area!
"These guys are great. I have a very old Bryant system that many companies do not have parts for. Not only did they have the part, they were able to install it the very next day, on a holiday weekend. Great service, highly recommended." Alex L.
"Before the install Hugo was responsive to my Angie's List messages. He showed up on time, did the work quickly. I asked about replacing the element; Hugo discussed the price (which was very fair) before installing the new element, explained the system, provided the documents, provided his contact information if there is a warranty issue with the work. Before leaving I mentioned I had a new thermostat to install, he looked at the wiring on the new unit to ensure it would work with my system." Michael B.
---
Contact Comfortable Air Services today for fast and reliable furnace and boilers repairs, maintenance or a new heating system installation!